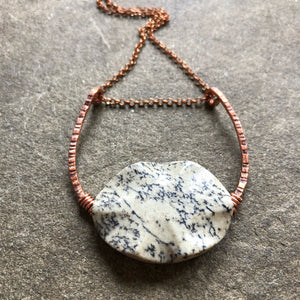 Textured Copper Horseshoe + Flecked Jasper
A beautiful, bold textured copper 'horseshoe' featuring a cool one-of-a-kind flecked creamy white Jasper. This piece is has a neutral color palette that will look great with all of your looks! Jasper is a nourishing and protective stone. 
This piece is one-of-a-kind.
This gorgeous piece is sold on a solid antiqued copper chain.