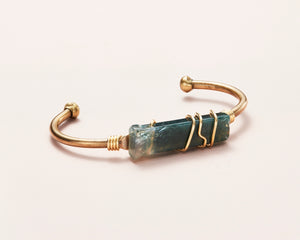 Green Indian Agate Crystal Cuff
This solid brass adjustable cuff features a big stunning piece of Green Indian Agate. It is a clear dark green stone.
Wear one Crystal Cuff as a simple, beautiful statement, or stack more for a bolder look.
It is said to be a good protection stone, balancing yin/yang energy, courage, protection, healing, and calming.
*Please note that each Crystal Cuff comes with a unique handpicked piece Green Indian Agate*